The Best Feng Shui Desk Tips For Career and Business Success.

Feng Shui desk tips will help you to properly energize your desk for excellent work luck and overall well being.
First, you need to understand how to place Bag-gua map on your office desk 
Second, based on Bagua colors and simple principles you decide and properly place items that need to stay on your desk permanently. 
This will make your desk powerful, organized and pleasure to sit at. 
Wealth and Prosperity Feng Shui Desk Tips
---
Anything that "brings money into your business" should be placed into Wealth Area on your desk. Good examples are:

phone (if you get a lot of customers calling to request your service)
computer (especially if you get leads via the internet)
accounts receivables
purple crystal or other decorative items corresponding with Bagua Wealth Colors
Avoid keeping your business or personal checkbooks, credit cards or anything that symbolizes money going out in the Feng Shui Wealth area of your desk.
Family and Core Health Desk Area
---
This area is connected to your extended family and relatives.  On professional level it includes employees and bosses or managements. 
You want to place here anything that symbolizes growth, stability and longevity. 
Good examples are:
green object such as hand carved green Feng Shui Turtle that symbolizes family health and longevity. 

healthy green plants including beautiful round (oval) shaped cactus to clean the air and help to protect from computer and WiFi electromagnetic radiations (EMF)
Researchers at the institute of Geobiology in Chardonne, Switzerland, tested employees who suffered from headaches and tiredness.  Same employees felt much better after working for two years but with a cactus next to their computer monitor. 
Scientists believe this is due to the fact that cacti evolved extremely well to counter the effect of harsh solar radiation on the dessert. 

This area is also a great place for:
family photo and memorabilia
images of healthy and happy people
Knowledge and Spirituality Feng Shui Desk Tips
---
This area symbolizes professional improvement, education, becoming wiser and more accomplished.  In your business it is connected to the good decision making, good information and data and quality resources. 
Color Blue in Feng Shui is used to gather the energy that helps to concentrate, study and focus on making wise decisions.
In Feng Shui blue crystal is very effective in focusing the energy in addition to these items that can be placed in Knowledge corner of your desk:
any guides and manuals
how to do instructions
dictionary
reference books
learn foreign language books
meditation and spiritual books

You can further empower this area by placing a picture of accomplished, wise person, mentor or teacher that you highly admire in blue frame or background.
Fame and Reputation Feng Shui Desk Area
---
This area directly influences
your reputation - how your co-workers, boss and clients see you.
reputation of business, word of mouth, public relations

If you are an business owner be sure to apply Feng Shui desk tips for protection as this area affects your business reputation that is hard to build and easy to damage. 
If you are aspiring artist, musician, model etc. you need to harmonize this area so it can attract public attentions and fame that you are seeking. 
Very effective Feng Shui cures in Fame / Reputation Area are:
Desk lamp.  Red colored would be the best
Small trophies that can be placed on desk especially with red color in them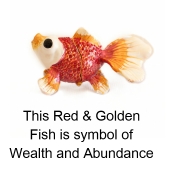 Any decoration that symbolizes fame and good reputation to you such as:

miniature of Hollywood Star of Fame
cut out red stars, red and gold ribbons, red "You Are #1" sign

shiny red folder that stays on your desk

red file, pen holder 
or this beautiful red/golden Goldfish which fits with Bagua colors of Fame and Health Guas of your desk.

Health and Well Being Feng Shui Desk Tips
---
Feng Shui cures in this area can stimulate better stamina and focus and less tiredness while sitting for hours at your office desk.
My all time favorite Feng Shui enhancement is Laughing Buddha on Tiger. I have this energetic Buddha placed right next to my yellow calendar on my desk.  It is a very powerfull symbol of happiness, good health and wealth. 
The Well Being Feng Shui area of your desk correlates to:
your physical health and how you feel overall
in the business environment it is directly connected to the health of your business
The best way to enhance this area is with items in beautiful color yellow and earth tones. 
Good examples are:
Gold statue of Laughing Buddha in slight upper corner but still in the Feng Shui Health Area of your desk so it's not in your way while working

beautiful desk calendar with sunrise and sunset photographs or similar

yellow reminder stickers
canary yellow notepad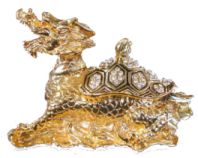 Another Feng Shui symbol of well being is Dragon Tortoise that attracts good health, courage and success. 
Career and Work Feng Shui Desk Area

---
Its important to enhance this area of your desk if you want:
improve your career, get promotion or raise
improve relationship between co-workers
Career area can be enhanced by placing some black or dark blue colored items on your desk.  Good examples are:
mouse pad

daily reminder book in black cover
shiny black colored folders

By far the best way that I found to improve my Work Feng Shui area is by placing a black color Earthing Pad on my desk.  It serves two important purposes. 
First, color black greatly enhances this area of the desk for work success.  Second, the Earthing Pad protects my health and energy while sitting for hours at my desk surrounded by devices (computer,Wi-Fi, cell phone, wireless products) that emit large amounts of harmful electromagnetic energy. 
Result is health and vital organs protection, better concentration and less tiredness at the end of the day. 
Health Warning For Ladies: Many women don't realize that by sitting daily for many hours next to the wireless keyboard, mouse or printer for instance, their breasts get exposed directly to the electromagnetic waves that easily penetrate body, all cells and harm DNA - which increases chances of breast cancer and other diseases. 
Even worst, many women are also wearing bra with metal wires lining the cups - in this case conductive metals are actually attracting much higher amounts of this dangerous radiation directly into the area around  breasts, heart and liver as well.  
For more info you can watch short but useful video about electronic devices we use every day and read about the dangers of wired bra, article by Dr Mercola.
Love and Relationship Feng Shui Desk Tips
---
This area is related to your relationships - whether it is personal relationship with your husband or partner. Or professional relationship with business partners or outside partnerships that are important for your business. 
The best Feng Shui desk tips to enhance this area would be to place:
happy photo of you and your partner together
small statue or figurine of couple if you are single, 
pink crystal lotus to attract love energy

2 hearts together, etc.,  all best in light red or pink colors

To strengthen relationships with your business partners you can place brochures, photos, cards and information about your services and projects including information on your quality partners and suppliers on whom your excellent services rely on. 

Children and Creativity Feng Shui Desk Area
---
This beautiful Feng Shui area of your desk is connected to your children - their health, happiness and progress. 
This area is also deeply connected to your creativity at work, ability to clearly communicate and explain yourself.
The easiest way to enhance Children Feng Shui desk area is to use colors white and light gray.  So any stacks of papers or projects you work with can be placed in this area of your desk as they all appear mostly white color. 
You can also use nice light/silver colored metal file holders or other objects as metal energy increases concentration and supports thinking and imagination. 

Helpful People and Travel Feng Shui Desk Tips
---
This Feng Shui area of your desk relates to your "helpers" and "guardian Angels".  Enhance this area if you are looking for good suppliers, colleagues, employees,lawyers, accountants, benefactors and mentors. It is also a great area to enhance if you travel a lot or wish to travel. 
Good Feng Shui enhancements for this desk area are:
dark gray or black contact book
rolodex
business card holder
keep your coffee cup with guardian angel or other protective image on it there
tape smaller map on desk and mark your travel wish destination on it
As you can see there are many options you use to help you amp up your office desk.  However, keep in mind to: 
be creative but also subtle in enhancing your desk.  You don't want the entire office wonder what are you doing and make you feel uncomfortable
select no more than 9 items to stay permanently on your desk  
closely follow Sacred Ba-Gua Map suggestions especially about colors but use your creativity with enhancing items that you need on your desk and placing them in the correct Feng Shui area of your desk.  
Read more Feng Shui Desk Tips and Print Good Enhancement Bagua for all your Feng Shui needs.