Learn Best Feng Shui Office Desk Cures Including How To Apply Bagua To Your Office Desk

Feng Shui office desk rules are easy to apply and very powerful in helping you to achieve desired career promotions, salary increase and good reputation. 
Nothing says about you more than an organized and neat office desk.  It not only exudes good energy but also helps you stay motivated and focused on your career goals.
We will tell you how to create  "The Power Desk" that attracts opportunities, good advice and mentors yet protects against backstabbing co-workers, gossips and killing sha energy.  

1. Basic Feng Shui Office Desk Rules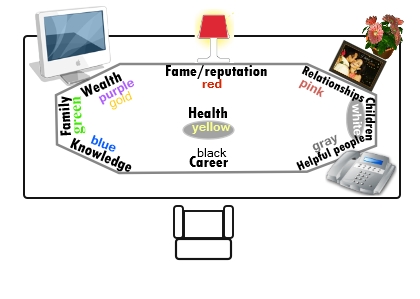 First of all you need to decide on the most important items that you need on your desk.  However, you should not have more than nine items on your desk permanently.
For many of us the most important items that we need to keep permanently on our desks are:
phone
computer
file holders
pens and other office tools
decorative elements dear to our hearts such as: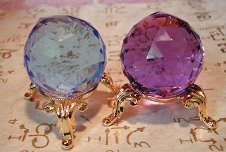 flowers, figurine, signed baseball
photos of close companions such as family, kids, friends or pets
other specific tools needed for your profession daily
It's important that you select no more than 9 items that stay permanently on your desk.

For anything else, adopt this strict OFFICE DESK RULE:

Everything that comes across my desk I either: Act on it - File It - Or Toss it!
Especially:

Don't pile files that stay on your desk for days.  If you need to work with them find side cabinet or shelve that can hold them. 
Don't leave unfinished work on your desk.  It will create stagnant energy that will feel overwhelming to you next morning.  Put it aside and leave your desk always nice and clean for the next morning.
Don't clutter your desk with too many notes and reminders either.  Instead, use good calendar / organizer for all to do's.
Keep the rest of the items like pens, pins, stapler etc neatly organized. All this will help you to stay clutter free, focused and in control. 

Devote at least 20 minutes a day to filing, organizing and putting things on proper places.  Start with old clutter that has been bothering you for a while first. 

Don't be surprised by the improvements and new opportunities that will follow next.....
NEXT: How to apply Bagua to your Feng Shui office desk for continued success and career improvement.