Can Healthy Food Heal Leaky Gut, Food Allergies And Gut Inflammation? Review of Healing Protocol in the Heal Your Gut Book.


If you wonder whether healthy food heal leaky gut, food allergies, gut inflammation and host of other related issues like gluten intolerance, bloating after eating, diarrhea, constipation and hemorrhoids, you are at the right place.  Let's take a look if healthy foods suggested in the Heal Your Gut book with 50 anti-inflammatory recipes could heal and nourish your gut back to health?  

At first glance, the book has an inviting look. I would be remiss if I didn't mention just how adorable the ebook's graphics are. From the cover all the way to the end, every page has cute, happy, and cohesive graphics that make the book a joy to look at.

The light and playful graphics are a great match for Lee's writing style. Although she discussed what had the potential to be a dry subject – healing and balancing your gut flora –she made the topic fun and inviting. Perhaps most importantly, it is quite intuitive; you would be able to understand the detailed explanations in the book even if this were your first foray into natural eating and healing.

Lee broke the digestive system healing process into four phases which shows step by step how healthy food heal leaky gut and other gut inflammation dis-eases.
If, like Lee, you are reading this while in the midst of severe illness, then you would greatly benefit from following the full program. Even someone with more minor gut discomfort or who is mostly healed and just wants to reboot their system will greatly benefit from this truly healing and balancing program.
The phases are:
•    An elemental diet for four weeks to let your digestive system heal first
•    A detoxing period with both liquid foods and easy-to-digest solid foods
•    Reintroducing a more varied healthy diet, including probiotics
•    Detox the rest of your life – skincare, home, etc.

It is important to keep in mind that this is NOT a diet or cleanse book. You may lose weight and cleanse your body while you're at it, but the focus is different. This is first and foremost about healing your gut with healthy foods. 
Even during the elemental diet phase the recipes are intentionally packed with nutrient-dense and gut restorative foods so you don't starve yourself in the process.

Below are some of my main takeaways from Heal Your Gut, broken down into three categories: the healing process, the food, and living a detoxed life. I will delve into what I liked as well as what I felt was missing, as I have walked a similar (although not nearly as severe) path of healing.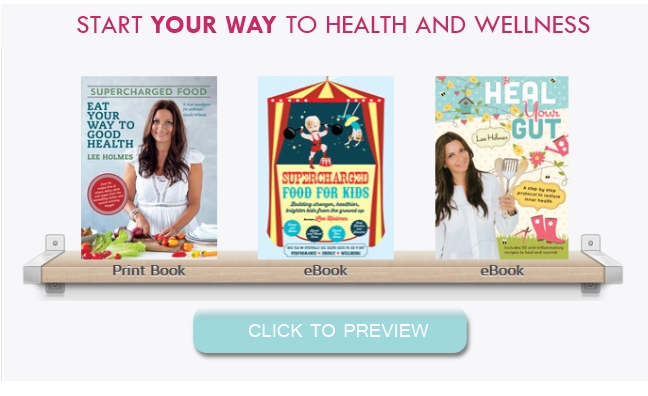 The Healing Process:  How Healthy Food Heal Leaky Gut, Food Allergies, and Gut Inflammation In The Heal Your Gut Book
Lee didn't just provide advice on what to do and eat; she also explained why it's sound advice so you come away with a full understanding of the path on which you are embarking. She also provided an easy to follow weekly meal planner, which combined her recipes each day for optimal well-rounded nutrition.

This is great because it takes the stress out of putting it all together yourself – much easier to switch out a few recipes here and there if you don't like something than to craft a meal planner from scratch.Healthy food heal leaky gut as long as recipes are easy to make and Lee accomplished that. 

And the best is that dessert is included every day!
If you're going to be improving your diet while you're healing, it helps to have a little something sweet to look forward to.
Yes Healthy Food Heal Your Gut And Help With Food Allergies But There Is Something Else You Need To Know About ...

These headaches are awful and may make you feel like giving up, but I implore you to persevere; when you make it to the other side of the withdrawal you will feel amazing.

It is also important to remember that you may actually feel worse rather than better the first few days or weeks, especially if your symptoms include bathroom irregularities. It is natural for your body to react strongly if you are making any changes to your diet, so be patient.


Another thing I was not entirely prepared for in my own healing process was the emotional toll it would take on me. As your body detoxes it releases a host of different physical, emotional, and mental negativity that has been building up in your system all these years, and these things don't always flush out without a fight.  
I added regular walks outside 2 to 3 times per day for 10-15 minutes.  Whatever I could do in between my hectic schedule.  I would also listen to motivational talks on YouTube while walking to only allow positive things into my min.  You know what happens when you let your mind wonder aimlessly?!  This helped me to calm down, de-stress and re-energize. 

Be kind to yourself as you heal. Cry if you need to cry, sleep in if you need more rest. Making yourself feel guilty over what you "should" be capable of doesn't accomplish anything more than making yourself feel even worse.
You are healing, and it will take time. So be kind to yourself for goodness' sake!


The other thing I wish she had included is a list of her research sources and other reading materials at the end of the ebook. It's clear that Lee did her homework for this book, but some of her readers might like to do the research for themselves as they arm themselves with as much information as possible. She included links to some of her sources throughout the book, but a comprehensive list at the end would have been great for those of us who want to delve deeper.

CONTINUE TO:
How the healthiest foods in The Heal Your Gut ebook really taste?

READ MORE:
My Story: How my gut inflammation caused a great deal of pain and discomfort in my daily life
My Story: As I continued on my gut and body healing journey, I started to realize that healthy food heal leaky gut and many other health related conditions.
Lee's Inspiration Story: Recovery from Fibromyalgia and her gut and body healing books 
Detox Your Life: Chemical sensitivities and gut inflammation go hand in hand